2020-2021 Dr. Eileen Hemman, COL (Ret.)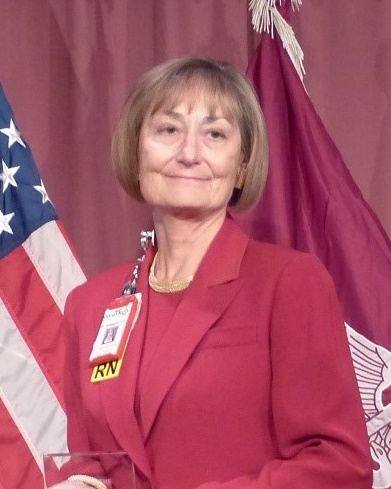 DEGREES:
Associate ofArts in Nursing – Miles Community College, 1971
Bachelor of Science in Nursing – Montana State University
Master of Science in Nursing – University of Colorado Medical Center
Doctor of Education – Seattle University

PROFESSIONAL ACHIEVEMENT:
• Perinatal Clinical Research Nurse, Madigan Army Medical Center
• Senior Clinical Educator and Faculty, University of Washington
• Chief of Managed Care, Madigan Army Medical Center
• Director of Hospital Education, Eisenhower Army Medical Center
• Respiratory Nurse Specialist and Coordinator of Respiratory Care
• Director of Mobilization, Education, and Training, Bassett Army Community Hospital
• Regional Consultant for Army Nurse Recruiting
• Chief 47th Combat Support Hospital

LEGACY OF SERVICE:
Dr. Hemman was born in Miles City and graduated from Custer County High School in 1969. She entered the first class of Nursing students at Miles Community College, graduating in 1971. She worked at the Veterans hospital full time during her school attendance. In 1977 she entered the Army Reserves and eventually transitioned to Active Duty. Dr. Hemman retired in the rank of Colonel in 2004. Dr. Hemman has held numerous positions during her distinguished military and civilian careers.

Dr. Hemman is the recipient of many civilian and military awards including the Legion of Merit, the Meritorious Service Medal, the Order of Military Medical Merit, Army Parachutist Badge, the Expert Field Medial Badge, Outstanding Research Mentor, Nancy Whitten Outstanding IRB (Institutional Research Board) member. Her works have been published in books and journals including Critical Care Nursing, Military Medicine, Journal of Continuing Education in Nursing, Journal of Nursing Leadership, Journal of Nursing Administration, Nurse Educator, Journal of Radiology Nursing, Joint Commission Journal on Quality and Patient Safety, and the American Journal of Nursing.

She has also served on multiple panels and boards to include Government Liaison on the Congressionally Directed Medical Research, Institutional Research Review Boards and Board Member Covenant Bible Seminary. Dr. Hemman has also presented at institutions such as AMSUS (The Society of Federal Health Professional), TSNRP (Triservice Nursing Research Program), Biennial Phyllis J. Verhonick Nursing Research Course, and ATACCC (Advanced Technology Applications to Combat Casualty Care). Dr. Hemman formally retired in 2019 and resides in Steilacoom, Washington.

"MCC provided me the opportunity to improve my life and embark
on an exciting personal and professional future."